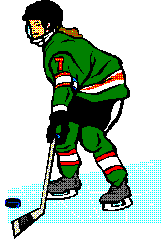 What's New....t?
As Summer draws to a close, the NEW...T season is just around the corner. We are excited about some great new talent we have added to our roster. A total of 7 NEW...T players to be exact with a variety of ages and abilities. We are confident these additions will make the NEWT team a force to be reckoned with this season
We'll be participating in an early season tournament the weekend of Friday Sept. 20 thru Sunday Sept. 22 at the University of Southern Maine in Gorham, ME. This will be the first opportunity to see the new and improved NEWT team in action. For more details, please go the 2002-2003 Schedule page for the tournament schedule and times.
This season, besides new players, the NEWT organization put together an organizing committee to help keep the program moving forward. This committee is made of NEWT players and has spent several hours this summer working on enhancements such as better recruiting, fund raising, outlining player and coach expectations and along with help from the entire team, the voting of team captains.
Because of this hard work, we have been rewarded with successfully recruiting some solid players. Thus, the NEWT roster is full for the 2002-2003 season. However, if you're interested in learning more here are some details of the NEWT team:
NEWTs are a women's senior B ice hockey team based out of Philips Exeter Academy in Exeter, NH looking for a few strong players to round out our roster. No politics…Just hockey! As a NEWT, you'll receive:
· USA HOCKEY Membership and insurance
· Home and Away jerseys
· 20 weeks of 1 hour ice for practice/games
· 12 officiated games (home and away)
· 3 Tournaments
· "The NEWT Discount" on hockey equipment at Chickwearsport.com
Our annual players fee is $400 and includes everything you see listed above. This means you won't be dishing out additional funds for tournaments....everything's included except accommodations should we need to stay. Payments are made in 3 installments - $150 on Aug. 25th (pre-season kickoff party), $150 on Oct. 1st and $100 on Dec. 1st.
Contact Cathi Thomas cathi@chickwear.com or Ruth Laurent laurent4@earthlink.net for more information. Looking forward to another successful year and to seeing you in a NEWT team jersey!
Look for updates here throughout the year to catch up on the latest with the NEWT team.